Womens Retro Leather Short Boots for Winter Round Toe Ankle Boots Black/Blue
The Upper And Insole Are All Made Of Top Layer Leather ,Flexible And Comfortable,The Rubber Sole Is Elastic, Soft And Light, Comfortable, Safe And Antiskid.
Original Design,Hand-Cut, Side Zipper,With A Strong Touch Of Retro Style, Wearing Your Unique Beauty.
Details Determine Success Or Failure.
Color:Black/Blue
Material:Top Layer Leather
Lining:Genuine Leather
Insole:Genuine Leather
Sole:Rubber
Heels:3Cm/1.18"
Tube Height:9.5Cm/3.74"
Great Shoes To Spice Up Any Outfit, From Casual Jeans To Fancy Dress.The More You Wear Them, The More Comfortable They Will Become!
Item No.Dwarves823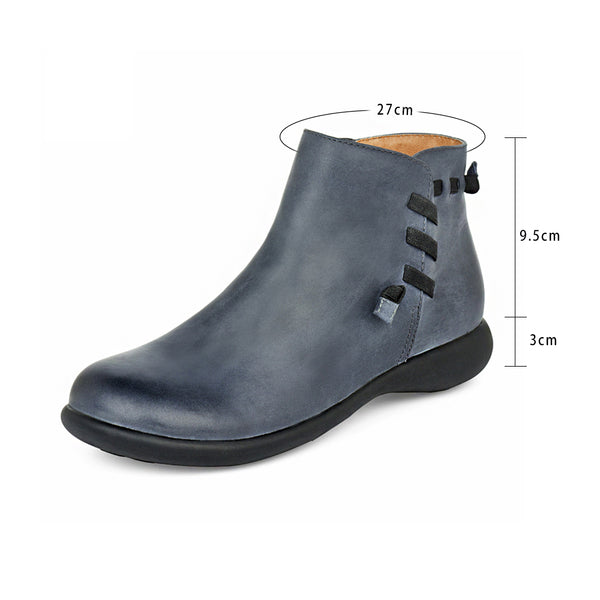 ▶▶ Sizing ◀◀

36 EU / 5.5 US Women / CN 35 fit for feet length 22.1 to 22.5 cm

36-37 EU / 6 US Women / CN 35 fit for feet length 22.5 cm

37 EU / 6.5 US Women / CN 36 fit for feet length 22.6 to 23cm

37-38 EU / 7 US Women / CN 37 fit for feet length 23.1 to 23.5 cm

38 EU / 7.5 US Women / CN 38 fit for feet length 23.6 to 24 cm

38-39 EU / 8 US Women / CN 39 fit for feet length 24.1 to 24.5cm

39 EU / 8.5 US Women / CN 40 fit for feet length 24.5 to 25 cm

39-40 EU / 9 US Women / CN 41 fit for feet length 25.5 cm

40 EU / 9.5 US Women / CN 42  fit for feet length 26 cm

40-41 EU / 10 US Women / CN 43 fit for feet length 26.5 cm
If your feet measurement is between sizes you are welcome to contact us so we can help you choose the best size for you

Feel free to contact us with any other question or requirement customer@dwarvesshoes.com
▶▶ Material ◀◀
1. Best Calf leather. Fine and smooth feeling, full texture, luster, clear particles, excellent elasticity, with a certain waterproof and defensive performance, easier to handle.

2.Heavy fleece, fine pore, comfortable, can better protect your feet.

3. Anti-skid and wear-resistant outsole. Soft, with anti-skid, shock absorption, wear resistance and other characteristics, good elasticity and waterproof performance,reliable foot feeling.

4. Perfect Shoe tree for Human Body
▶▶Note / Notice◀◀

# Dwarves leather products are different from each other due to leather texture and hand dyeing process.

# The real color of the product may be slightly different from the screen display due to the different lighting sources and user computer settings.

▶▶Maintenance methods▶▶

# Shoes are stored in dark, ventilated and dry places and avoid stacking with other leather products.

# After wearing shoes, you can use soft cloth or soft brush to remove dirt such as dust and dirt on the upper of shoes.

# If wet, replace the newspaper in shoes for 2 to 3 times in about 20 to 30 minutes and accept it after natural air drying.

# Avoid direct hot air drying or sun exposure