How to trying shoes on at home?
Trying shoes on at home without damaging the shoes, sounds easy, right? Foot in, wiggle your toes, make a decision. The reality is, buying anything online is a minefield, and you want to get the decision right. That's why we are here to help crack the code whilst protecting the shoes if they are not the right size.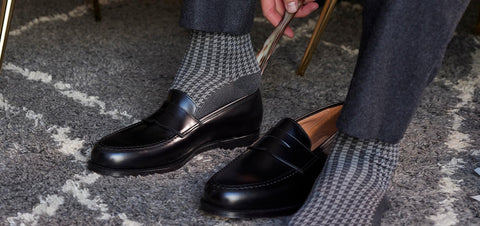 Before we get into trying shoes on at home, we do recommend reading our article "
Size Details
" This article will give you more confidence when buying our shoes online.
Here are a few points to trying shoes on at home that are more important that you might think.
1. Take out the Foam shoe last.
2. Lace the shoes up in a cross pattern, this actually enable you to properly tighten the laces. But please do take care when lacing them up, fingernails can easily scratch the leather.
3. Use a shoe horn and listen out for a little rush of air as you push your foot in! This usually means they are a good fit. If you do not have a shoe horn, you can use the cardboard supports to slip your heel into the shoes without damaging the back.
4. Laced shoes & boots should be wide open when pushing your foot in and then laced up with a gap of between 5mm – 10mm.
5. Shoes & boots without laces should feel snug, but not tight, with the vamps (forepart) resting gently on the top of your foot.
6. Stand up, and walk a few steps on carpet.
7. DO NOT WEAR THE SHOES OUTSIDE. Most importantly of all, we kindly ask that you 'try shoes on', and do not walk around in them. A few steps is fine, but when trying shoes on at home, please do so on carpet and NOT hard flooring and certainly not outside. Hard floors damage the leather soles which in some cases could result in our rejecting your return or charging a rework or resole charge.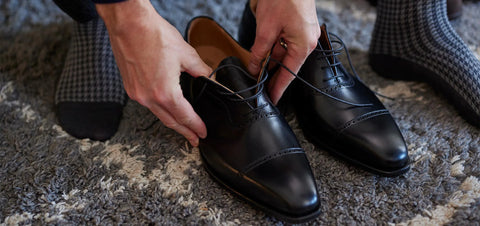 Finally, your new shoes should have that new shoe feeling, but they should feel comfortable, whether you are in store or sat at home. A shoe that is too tight or too large should be obvious from the first fitting. If they are not, accept that the wrong size has been ordered, drop us an email and we will check that the correct size is waiting in the wings!

If for any reason your shoes do not fit, please place your shoes back in the provided shoe bags before boxing them back up using the original packaging. Then you could email us directly and we will help you resolve this problem.

All products must be returned in the same unworn and unused condition in which they were received. Returns showing any signs of wear or damage may not be accepted back. We urge you to follow the above advices.
---